So, which period swimwear is better, Modibody or Rubylove? I guess it depends on who you're asking and what better means. Better can be a very subjective word. Let's try to make it more objective and compare the swimwear on a couple of parameters.
Let's have a look at what people think of Modibodi and Rubylove period swimwear when it comes to
Absorption
Style & design
Fit & Sizes
Price
I have tried them both myself but are also basing this comparison on online reviews to not make just my opinion count.
If you want to skip straight to the summation, just scroll down to the bottom of the post.
Absorption – amount of fluids
We have different needs at different days depending on where we are in our cycle. Sometimes it's just a light leak and sometimes it's a steady flow.
Modibodi Light leaks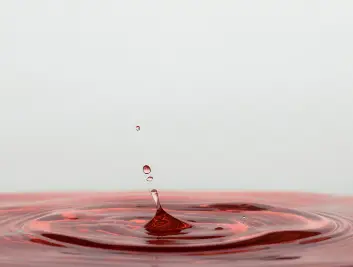 Modibodi swimwear hold up to 2 regular tampons worth of blood or other fluids (20ml). They have a waterproof outer gusset that locks away leaks and protects you from odors and stains. The outmost layer dries 3 times faster than your regular swimwear.
Rubylove Light leaks
Rubylove has a built-in liner made of 100% organic cotton that holds up to 3 tampons worth. They promise no swelling in the water.
Our Ruby Love Technology features a smart and intuitive design. Our built-in absorbent liner is made of 100% absorbent organic cotton and is perfectly angled under your body to collect your flow immediately, ensuring leak-proof comfort.
Modibodi Heavy flow 
I can't really recommend Modibodi for heavy days because they only hold 2 tampons worth of fluids. You can of course pair them with tampons, menstrual cups or discs for extra protection but they start to feel unnecessary.
Rubylove Heavy flow
Rubylove is better than Modibodi when compared for period swimwear on heavy flow days. Rubyloves has a special dri-tech mesh gusset and special washable pads that can hold up to 6 tampons worth of blood (double sided pad). I think that is pretty amazing.
Remember we bleed less in water because of the water pressure. This effect does wear off when you get out of the water.
Style and Design – classic or trendy
Modibodi
I have to say I personally like the styles Modibodi offers. They have more classic cuts, clean designs and long lasting looks. It's nice to get something that will last more than one season.
With that said I'm 38 years old and appreciate different designs and trends compared to you teens and young adults. I would almost say that Modibodi might be more for women than girls.
If you want to ser some design examples, check out the post -> Period underwear for swimming for women and ladies
Rubylove
If Modibodi has better designs for period swimwear, Rubylove has better period swimwear for teens and young adults. The designs are more youthful and they have a lot more colors, patterns and styles to choose from. We're talking ruffles, one shoulders and space patterns. You can also find more regular designs at Rubylove.
If you want to find the best swimwear for teens, have a look at the post under the link.
Fit & Sizes- is it comfortable
Modibodi
I have to say Modibodi and Rubylove are equally good when it comes to sizes. Especially Modibodi makes a thing out of using "real" models. We're talking big, small, light, dark, tall, short and everything in between. I think it's very uplifting that they offer period swimwear for all shapes and sizes.
They both have so many great reviews on their sites and they offer almost everything in the sizes S or XS to 3XL. People generally are very satisfied with the garments.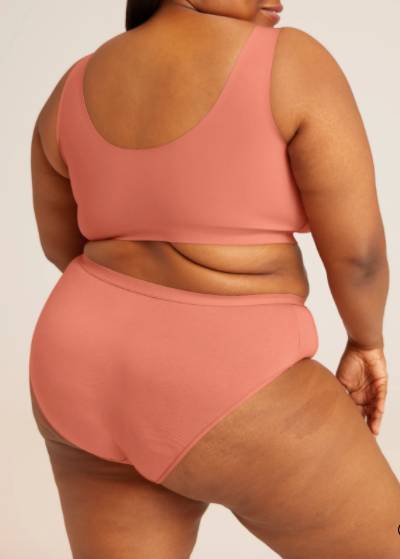 The reason why Rubylove only get 4 stars even though they offer just as many sizes as Modibodi is because they aren't designed for people with big booties. People have been complaining a bit about them. Nobody want a visible crack if you know what I mean.
I'm just guessing here but I think it's because they focus on teens and young women. I'm not saying that young people can't have bigger behinds, but usually it takes the body a while to mature and get curvy.
Price – best value for money
Modibodi
Rubylove
Yet again I would say it's a tie. Modibodi and Rubylove offer period swimwear to almost the exact same prices and no one is really better than the other. If you want to save money, hold out for sales and check out the bundle packs. Maybe you can share the cost with a friend?
Conclusion - which period swimwear is better Modibodi vs Rubylove
If is sum up the stars we actually have a winner, Rubylove. Rubylove win with 2 stars because of the ability to handle heavy flow days. Otherwise they get the same results.
2 important differences between Modibodi and Rubylove
I can extract 2 things that are worth mentioning when comparing period swimwear from Modibodi and Rubylove.
Rubylove designs for a younger target group and Modibodi for women and ladies.
If you need protection on heavy flow days, go for Rubylove.
I hope this helps you on your quest to find your best period swimwear.