Let's start with the most important question. Does period swimwear for teens really work? Yes they do. At least to some degree. It's definitely a great option for girls who can't or don't want to use tampons.
Although, there are some limitations that are good to know:
Absorbency: 1-2 tampons
Period days: light flow and spotting
Pros: Feel safe and comfortable, help reduce waste
If we're talking heavier flow the solution is to combine the period proof swimwear with tampons or better up, a menstrual cup. It will still work as back up, protecting from sneaky leaks and stains on clothes and towels. If you can't wear tampons you can also secure a pad in Rubyloves swimwear. You can read more about that here.
There are of course also differences in quality and absorbency between different brands. I haven't tried them all, but I do have two favorite ones, Modibodi and Rubylove.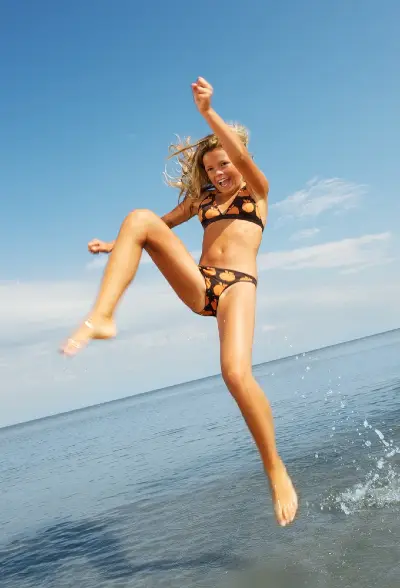 Modibodi has a more classic line and Rubylove is more colorful. Both prices and the quality are about the same. They differ a bit in style, technology, some features, and colors. Both brands have all in all great period swimwear for teens and have very many satisfied customers.
Keep reading to see and learn what they offer. All swimwear shown in this article will fit teenage girls.
SPECIAL OFFER – 50% of bikini bottoms & One piece from MODIBODI →
Comfort & Care
I would say that the number 1 reason to consider period swimwear for teens is comfort. Not just feeling comfortable in you swimwear but with your period. It's of course nothing to be ashamed of in any way, but no one want to experience embarrassing leaks or stains.
Period swimwear can give that extra ease of mind. Being a woman and having a period shouldn't stop us from doing things and keeping up with activities and sports.
The second most important reason to invest in period swimwear is the fact that they're reusable. Buying washable period swimwear will result in less waste and a healthier world and future. To make them last as long as possible, follow these care instructions.
How to care for and wash period swimwear
1. Machine wash on cold with similar colors.
2. Don't use fabric softeners.
3. Hang dry.
Do this and they will take care of you or your daughter for a long time.
Period swimwear for teens review
If you still feel a little unsure about period proof swimwear and if they really work, you should visit Modibodis and Rubyloves websites. A lot of the products have many reviews. Several hundreds even. There you can find out what moms and teenagers think about the swimwear after trying them.
If you rather look at a video review just click play on the video below. This review is by a girl who has no connection to Rubylove, she just wanted to try the swimsuit.