If you've just started getting visits from ant Flo or joined the red Army, welcome to the club of womanhood. What ever you want to call it, it can be painful, exhausting and everything in between.
But remember, there's two sides of every coin. It's also what makes us women unique. It's the origin of life itself. Even if you're not exactly thinking of reproducing right now, I think you should acknowledge what it means and embrace being a women.
Everything gets a little bit better with positive thinking… and a few pair of comfy period panties.
What is period proof underwear for girls? 
It's absorbent reusable underwear that works just like pads and tampons. Or maybe I should say instead of. 3 layers. Rinse in cold water, wash them, use again. Can last as long as your regular underwear. And they look just as your regular underwear.
If you're still unsure and on the fence, let me give your three quick reasons to try them.
1. Period proof underwear keeps you safer, no more leaks and stains.
2. Environmentally friendly.
3. Comfortable and no one can tell you're on your period.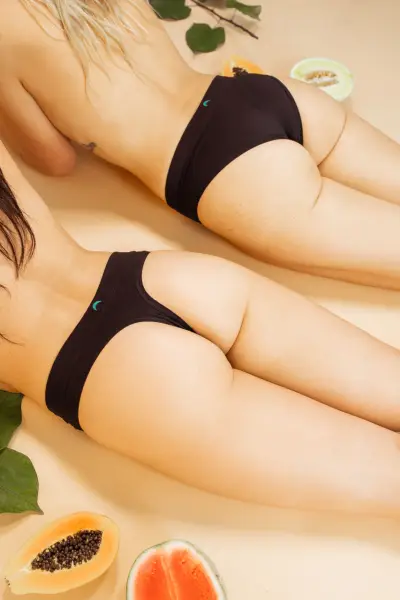 The best period proof underwear for girls
In my opinion, you find the best period panties at Thinx BTWN and RED by Modibodi. They both have unique technology, super high quality, lots of styles, colors and patterns to choose from, and so so many satisfied customers.
There's really no big difference between them. The prices are about the same and they both offer good value Bundle packs or Starter kits. The sizes and designs are also created with the adolescent body in mind.
Thinx BTWN
If you've never tried period underwear before, you might have a few questions. This will answer a few of them.
The underwear are not bulky but super light weight.
The first layer is moisture wicking which keeps your skin dry
The second layer locks away the fluids and odors.
Each pair absorbs up to 5 tampons worth.
You can use them with or without other kinds of protection.
They're made out of organic cotton.
Prices
Money is of course also an aspect. I would say that you save money if you have a little longer perspective. Below is a few examples. Remember that if you take care of your underwear they will last for about 2 years.
Super Bikini
You can never go wrong with a Bikini. It's a classic and will probably never go out of style. Just machine wash them on cold and let them hand to dry. No iron, bleach or softener. Do that, and they will keep you safe and dry for years to come.
Price: $23